First Impressions
by Mark D. Roberts
A year ago, I found myself in Austin, getting ready for an interview that would turn out to be a life-changing event for me. I've never been very comfortable with interviewing, having been in only four interviews during my whole pastoral career, three of them with Irvine Presbyterian Church, where I served as Senior Pastor for sixteen years. Moreover, I wasn't at all sure I was right for the job for which I would be interviewing on that sunny day in Austin last March.
Nevertheless, I wanted to make a good first impression, if for no other reason than a desire not to embarrass myself. So I fretted about what I should wear. Finally, I decided not to wear a suit, since that seemed too formal. Instead, I chose khaki slacks, a light-blue Oxford-cloth shirt, and a navy blue blazer topped off with a conservative tie. Nothing fancy, just business attire without too much stiffness.
Arriving early at the hotel where my interview was to take place, I repeatedly checked to make sure my clothes looked right. Soon I saw two men approaching whom I recognized from their pictures, since I had never met them before. As Howard E. Butt, Jr., and David Rogers came closer, I had to smile. Both of them wore khaki slacks, light-blue Oxford-cloth shirts, blue blazers, and conservative ties. Bingo! Not only did I choose the right ensemble for my interview, but also it seemed that Howard, David, and I had similar taste in clothing. Good first impressions all the way around!
As we got acquainted over a lingering lunch, I learned that we had much more in common than just an appreciation for conservative clothing. These men and I shared a deep commitment to Jesus Christ, a desire to serve him with our whole lives, a conviction that the ministry of the laity was essential to God's work in the world, and a belief that Laity Lodge was to play a crucial role in this work. Though I couldn't imagine leaving my church in Irvine and moving to Texas, later that afternoon I said tomy wife, Linda, "I would love to work with Howard and David. They are wonderful men." I wasn't sure what sort of first impression I had made upon them, but they had certainly impressed me.
My experiences of the last year have confirmed that first impression, in spades. Howard and David are great men, and I'm privileged to work with and for them. Moreover, I have been amazed by the quality of people associated Laity Lodge. Yes, I'm thinking first of the great staff that work for the H.E. Butt Foundation. They are people of stellar talent, abundant kindness, and solid dedication to Christ and to the Foundation's mission.
But I'm also thinking of people I'm just beginning to get to know, the vast number whose lives God has transformed through Laity Lodge. During my first few months on the job, my siblings in this greater Laity Lodge family have welcomed me with warmth and grace. They have assured me of their support, both for me and for the multiple ministries of Laity Lodge. How grateful I am to be able to team up with such fine folks in this marvelous work of God!
Laity Lodge itself makes a fine first impression. That extraordinary ranch in the Hill Country near Leakey, with its well-equipped camps, stunning cliffs, and alluring river, welcomes home even first-time visitors. Yet I agree with Howard Butt's observation that "the wealth of Laity Lodge" lies, not primarily in the facility, but in the fantastic people who have been associated with this ministry, both yesterday and today. God has richly blessed Laity Lodge, most of all with the people who are members of the Laity Lodge family.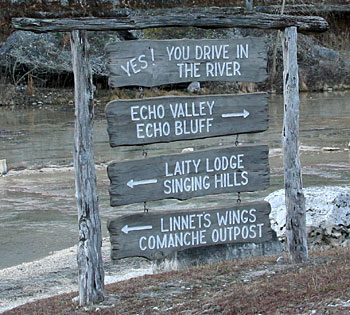 A typical first, surprising impression of Laity Lodge.
With great blessing comes great opportunity and responsibility. God has called us together as a Laity Lodge family and given us so much, not only so that our lives might enriched, but also so that we might join together to make a real difference in the church and in the world. We have been blessed so that we might fulfill the expansive mission God has given to Laity Lodge:
The renewal of society through the renewal of the Church;
Church renewal through renewal of the family;
Family renewal through renewed individuals.
This renewal will come as we, the people of God, live out our faith in every part of life: at work, at home, at church, and wherever we find ourselves in the world. We are the ones through whom God will bring multifaceted renewal.
What a privilege it is for me to help the extended family of Laity Lodge use well the gifts God has given us so that we might fulfill our crucial mission together. This is not just the mission of the Butt family or of the Foundation staff. Rather, it is the mission of all of God's people, especially those whose lives have been touched through Laity Lodge. It is our mission as the laity of God.
As I, neatly dressed in my interview attire, listened to Howard and David articulate their vision for Laity Lodge, I began to sense that God has great plans for this ministry. That first impression remains with me today. In fact it is stronger than ever. I truly believe, as Howard recently said, that "the best days of Laity Lodge are ahead of us." I'm thrilled to be a part of those days, and ask you to join me as we seek to fulfill our mission of comprehensive renewal. Let's live as God's people in the world and join together to empower all of God's laity to live out their faith each and every day.
Staff Changes at Laity Lodge
In November 2007, Liz Wyall, our Administrative Coordinator, got married to Tom Short, and became, as you might guess, Liz Short. In January she announced her plans to step down as Administrative Coordinator. Liz wants to focus her energies on her new life, and we are thrilled for her. We'll miss her energy, friendship, and dry humor.
The good news for us is that as we search for a person to replace Liz, Connie Taylor has stepped in. Many of you know Connie, who has served in various roles for Laity Lodge and the Foundation. We're glad to have Connie on board until a full-time person can be hired.
Recent Canyon Highlights
by Steven Purcell
Three Churches at Once
Hosting 3 different churches in the same retreat can be a challenge, but I'm happy to say we had a wonderful weekend with three Episcopal churches representing Waco, Midland and Fredericksburg. The speakers were Doug and Mary Earle from San Antonio. Their theme for the weekend was "The Path I Walk, Christ Walks It: Celtic Christian Spirituality for Real Life." A focus on Celtic spirituality might seem outside the box for Laity Lodge, but I can assure you the content was absolutely on target with the heart of the Laity Lodge's mission – that Christ cares about every aspect of daily life from relationships, to prayer, to punching the time clock, to making coffee in the morning.
The Winter Women's Retreat
Tim Blanks and I both survived the annual Winter Women's Retreat. Actually, we love this retreat. The speakers were Kathy Phillips and Alecia Lawyer. Kathy leads a popular Bible study at St. John the Divine Episcopal Church in Houston. She spoke from Joshua about leaving the "wilderness" and entering the "promised land." Alecia, an exceptional oboist, talked about the personal and yet highly-publicized account of her and her husband's experience of Enron's collapse. Both women shared from the heart, and many women were deeply touched. Tim pulled out a few surprises and worked his culinary magic in both the dining room and Great Hall. We also offered our first Cody Center workshop in "flower arranging" with Susie Miller from the Houston Country Club. We were also blessed by the musical leadership of Jeff Johnson, our January artist in residence. Jeff and his wife, Susie, are dear friends of mine, and now of Laity Lodge.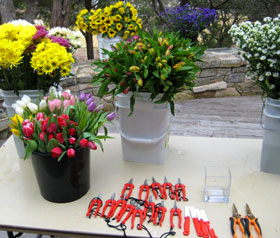 Flowers ready for arranging at the Cody Center
Update from the Registrar
by Ann Jack
I have been busy updating the Laity Lodge summer schedule with the musicians, artists, and speakers that Mark and Steven have recruited. We've got some new surprises! I'm excited about contemporary Christian recording artist, author, and Bible teacher Michael Card coming on Labor Day weekend. Michael will be the speaker and musician. He composed two of my favorite songs "El Shaddai" and "Emmanuel." Michael is one of the most prolific and influential Christian musicians of the last two decades, and we're honored to have him at Laity Lodge.
Speaking of the Labor Day retreat, in the past that retreat has been only for single adults. This year, with Michael Card's availability, it will be open to both singles and couples.
I plan to attend the Summer Women's retreat on June 11-14. Space is still available, and I don't want to miss an opportunity to hear Marjory Bankson, Linda Roberts, and award-winning recording artist, Cynthia Clawson.
Several summer retreats already have wait lists: Creativity Week; Conversations with J. I. Packer and Terry Hargrave; and Conversations with Earl Palmer and John Medina. The other retreats are filling, but you still have time to hear amazing speakers like Gordon MacDonald, Marva Dawn, Tod Bolsinger, and Lauren Winner.
One of our favorites at Laity Lodge, Ashley Cleveland, just won her 3rd Grammy. Congratulations, Ashley! She and her husband, Kenny Greenberg, will be providing music for the June 26-29 retreat with Gordon MacDonald. Here is another great reason to sign up for this retreat, in addition to Gordon's fine teaching.
For more information or to find out how to register for any of our retreats, visit the Laity Lodge website.
Thanks, Ann Jack!
by Mark Roberts
If you've ever called the Laity Lodge offices to register for a retreat, you've no doubt talked with Ann Jack. She is now in her thirteenth year as our Registrar. Ann is beloved by the Laity Lodge constituency for her friendliness and helpfulness. I appreciate her heartfelt commitment to our vision, her hard work, and her encyclopedic knowledge of Laity Lodge history and the people we serve. Ann is a blessing to those of us who work with her, as well as to folks who come to Laity Lodge retreats. Thanks for your faithful service, Ann Jack!
Daily Reflections at
The High Calling.org
Mark Roberts is writing the Daily Reflection for The High Calling of Our Daily Work.org, a website of the Foundation that features the radio spots of Howard Butt and lots of other encouragments for daily Christian living. You can find the Daily Reflection on the main page of The High Calling.org, or sign up to receive it in your email inbox each day.
Sharing Laity Lodge
If you'd like to keep up with some of what's happening at Laity Lodge, check out the ongoing series on Mark Roberts' website: Sharing Laity Lodge.