Dear Sisters and Brothers,
"Grace to you and peace
from God our Father and the Lord Jesus Christ."
(1 Corinthians 1:3)
This is the Tuesday of Holy Week, a week in which we focus on the last days of Christ in anticipation of His death and resurrection. I pray that you are finding ways to make this a truly holy week for you.
Let me encourage you once again to join us during this week as we gather to remember Jesus together. We have communion services each morning and evening at 7:00. On Good Friday there are two evening services, at 6:00 and 8:00. Also, I would urge you to spend some time in the sanctuary this week meditating on the Stations of the Cross. My wife, Linda, has painted fourteen watercolors that illustrate the last hours of Jesus's life. These, along with the Scriptures upon which they are based, will help you reflect and pray upon the meaning of the cross for your life. Here is one of Linda's paintings, illustrating the Fifth Station: Jesus is Judged by Pilate.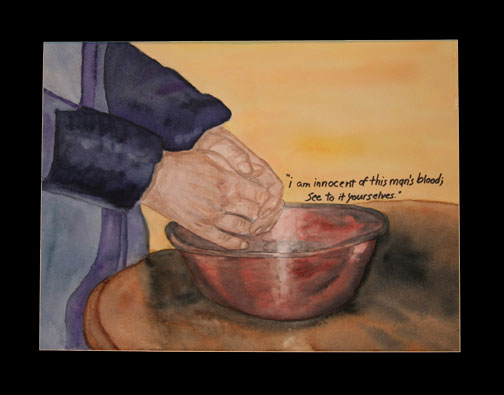 The complete schedule of Holy Week and Easter services can be found here (PDF).
If you're looking for other ways to make this a genuinely Holy Week, you might find helpful some resources I've put up on my website:
Remember to Invite Folks to Easter Services!
There is no better time of year than this week to invite people to church. Not only are many people willing to go to church on Easter, but also the services focus more clearly than ever on the center of the gospel. Plus, we work hard at IPC to show lots of hospitality to our visitors. So take advantage of this opportunity to invite friends and neighbors to Easter worship.
Be Friendly to Our Easter Guests!
It's one thing to get folks to church, and quite another to be sure they feel welcome. Now we have plenty of people involved in the official welcome of our Easter guests. But each and every one of us has the chance to pitch in here. If you see somebody you don't recognize, go ahead and say "Hello" and introduce yourself. Also, if you see folks coming into the church campus with puzzled expressions, you may be able to help them feel at home and figure out where they should go.
Extra Credit?
Well, I don't actually think you get extra credit from God for attending an Easter Sunrise Service. But you do get an extra blessing. For many years we've been celebrating Easter at 6:00 in the morning. It's wonderful to begin when the sky is still fairly dark, and to watch as it gets lighter and lighter. Once again this year we will be gathering on the basketball court for our Sunrise service. I hope to see you there! (The picture below was taken before the service a couple of years ago.)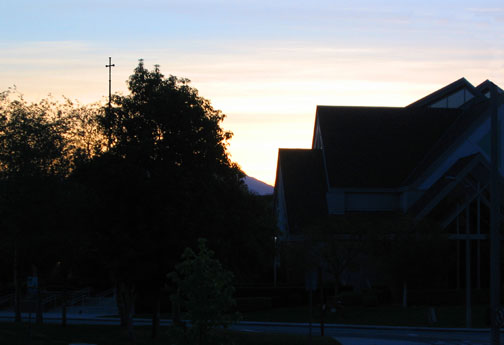 Pray for God's Work in People's Lives on Easter
All of us need a fresh experience of the power of the Christ's resurrection. I know I do, that's for sure! But Easter is a time when we have a high percentage of worshipers who don't know Christ personally. Please join me in praying especially for these people, that they will hear the good news of Easter as good news for them, and that they will put their faith in Christ as Lord and Savior. Last year about a dozen people became Christians in our Easter services. Let's pray that God will reap a rich harvest for His kingdom this year as well.
While you're at it, I'd appreciate prayers for me and for others who have much to do in this season. Pray that I'll be attentive to the Lord as I prepare my Good Friday and Easter sermons. Pray for the folks in our music ministry, for their physical strength and their spiritual focus. And please pray that all of us will be physically well for this crucial time of year.
Grace and peace,