N.T. Wright; Considering N.T. Wright; N.T. Wright at Laity Lodge; Simply Christian
Considering N.T. Wright
by Rev. Dr. Mark D. Roberts
Copyright © 2007 by Mark D. Roberts
Note: Some of this material appears also in the series Sharing Laity Lodge
Note: You may download this resource at no cost, for personal use or for use in a Christian ministry, as long as you are not publishing it for sale. All I ask is that you give credit where credit is due. For all other uses, please contact me at mark@markdroberts.com. Thank you.
Introducing N.T. Wright at Laity Lodge
Part 9 of series: Sharing Laity Lodge
Permalink for this post / Permalink for this series
A few days ago we were blessed to host a retreat for pastors and other leaders with N.T. Wright as speaker. Bishop Tom, as he is usually called in casual settings, spoke several times and participated in one long Q & A session. He and his wife, Maggie, are delightful people, the kind of people who are happy to hang out after lunch for a scintillating conversation around the table.
Many of my blog readers will be familiar with N.T. Wright, or Tom Wright as he is known through his popular writings. But some may not know of him, or may have only a vague notion of who he is. So I thought it might be helpful for me to reproduce in writing my oral introduction of Bishop Tom at Laity Lodge. I did not script and read that introduction, so you're getting more or less what I actually said. At any rate, if you're not familiar with Bishop Tom, this will help you get to know him. So, with no further ado, here's my introduction . . . .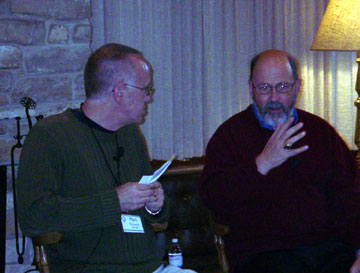 It is my privilege to introduce to you someone who needs no introduction. We've all come to this retreat because of our high regard for our speaker, who is well known through his prolific writings as well as his seasoned leadership of the church throughout the world. I'm here this weekend as the Senior Director of Laity Lodge, of course. But, in fact, I had registered for this retreat months before I came on staff here. The chance to hear Bishop Tom speak was well worth the trip from Southern California, where I lived until a couple of months ago. (Photo: from the Q & A at Laity Lodge.)
My appreciation for Bishop Tom began in 2000, when I took a three-month sabbatical from my pastoral work at Irvine Presbyterian Church. One of my goals for my sabbatical was to read four giant, classic books: Herman Melville's Moby Dick, Victor Hugo's Les Miserables, and N.T. Wright's, The New Testament and the People of God (535 pp) and also Jesus and the Victory of God (741 pp). Bishop Tom's books aren't quite as long as those two great novels, but they do total more than 1200 pages.
Reading all four of those classics during my sabbatical was a wonderful experience. Two of the books were among the greatest novels I had ever read. And the other two, those by Bishop Tom, were among the greatest works of scholarship I had ever read. What made them so exceptional? In a nutshell, they explained Jesus and His ministry in an utterly compelling fashion by examining in detail the cultural, historical, and theological context for Jesus, and then interpreting the text of the Gospels in that context. Along the way, Bishop Tom incisively and graciously decimated the views of many of his academic opponents, especially much of the nonsense that had been popularized by the Jesus Seminar.
This is not to say that the picture of Jesus emerging from Bishop Tom's writings is the individualistic "savior" so common in Western evangelicalism. Though he believes that Jesus saved us from our sins and opened up for us a bright future after death, Bishop Tom helps us to hear the true message of Jesus, the message of the reign of God come to earth, the message of a salvation that is far more extensive than what we often think, the message that calls a community of disciples to join Jesus in His work of "putting the world to rights."
Throughout his prolific writings and by his personal example, Bishop Tom challenges us to get back to Scripture, to read more carefully those documents we include within the written Word of God. Sometimes his own study of these documents, always done with close attention to their original context, takes him in new and even discomforting directions. Yet he remains faithful to the text of Scripture, urging us to do the same even if such faithfulness invades our theological comfort zones.
We have with us for these next two days one of the most influential and respected biblical scholars in the world today. If Bishop Tom were simply an academic who holes up in libraries to produce masterpieces of scholarship, he'd have our deep respect and gratitude. But, amazingly enough, he is far more than this. He is Bishop Tom, as he likes to be called, because he is officially the Bishop of Durham, one of the most influential leadership positions in the Church of England. As a pastor he preaches, leads in worship, presides over the sacraments, counsels people, teaches classes, and serves on more church committees than any person should have to do prior to Purgatory. Moreover, he has been willing to take a leading role in helping the Anglican Communion deal with some of the trickiest and most divisive issues it has ever faced.
Bishop Tom is a prolific author, not only as N.T. Wright the scholar, but also as Tom Wright the plain-speaking pastor. By the way, there's no truth to the rumor that he is able to write so many books because he has some poor soul named Tom Wright chained to a word processor in the dungeon of his castle. N.T. Wright is Tom Wright. The brilliant scholar who stirs up the academy is also the passionate pastor who instructs and inspires ordinary people, most notably through his marvelous series of commentaries for Everyone.
We are thrilled to host Bishop Tom at Laity Lodge, not only because of his excellent scholarship and leadership, but also because we share with him a deep passion for the ministry of the kingdom of God. Just last week several of us were talking with Howard Butt, Jr. about the core vision of Laity Lodge and its network of ministries. Howard, acknowledging the tendency for the word "laity" to be misunderstood, was searching for different language to express the vision Laity Lodge. Finally he said, "Our vision is this: the people of God for the world." "The people of God for the world," that's what Laity Lodge is all about. And, as you may know, that's what Bishop Tom is all about. In fact, he himself has used this very phrase many times to encapsulate our calling as Christians. The church, according to Bishop Tom, is to be "the people of God for the world."
We are here as pastors and other Christian leaders to learn more about how we can lead the church in this central calling. That's why Laity Lodge is here. And that's why Bishop Tom is here. So, Bishop Tom, we welcome you to this place with gratitude and joy. Thank you for joining us at Laity Lodge for these two days. Please come and help us learn how to lead the church to be the people of God for the world.
My Response to N.T. Wright at Laity Lodge
Part 10 of series: Sharing Laity Lodge
Permalink for this post / Permalink for this series
In my last post in this series I reported on the recent visit of N.T. Wright to Laity Lodge and shared my introduction of him to the retreat there. In this post I want to share some of my responses to Bishop Tom, as he likes to be called.
A Sense of the Man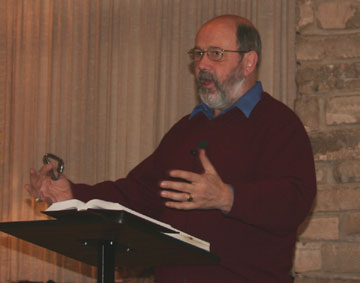 Until I met Bishop Tom a couple of weeks ago, I knew him almost completely through his writings. Over the years I've probably read well over 2,000 pages of his books, which I regard as among the finest works of biblical scholarship I've ever read. As I anticipated meeting him in person, I wondered what he'd be like. Over the years I've met dozens of prominent religious and academic leaders. Many come across as arrogant stuffed shirts, while others seem perfectly normal and rather unimpressed with themselves. (Photo: Bishop Tom at Laity Lodge)
I'm happy to report that Bishop Tom fits into the second category. He didn't seem to be looking for homage or praise. In fact, he seemed embarrassed by my rather "over-the-top" introduction. Shortly after we met, I asked him what he preferred to be called. "'Bishop Tom' seems to be most common," he said, "but I'm a fairly informal person, so I don't mind if people forget the 'Bishop' just use 'Tom.'"
Throughout his two days at Laity Lodge, Bishop Tom was at ease in conversations with a wide range of people. In fact, he seemed genuinely interested in the ideas and stories of the retreatants. In the rather long Q&A session during the retreat, he responded to all questions with respect and kindness.
Whatever else one might say about Bishop Tom and his ideas, he clearly seeks to live out his Christian faith in ordinary interactions with ordinary people.
Bishop Tom the Pastor
For the most part, Bishop Tom taught us during his time at Laity Lodge because this is what we asked him to do. He did so with great gusto. In fact, he often moved into a mode I would call preaching. It was clear that the ideas he shared were not just intellectual curiosities, but matters of passion and commitment. He really believes that all of this kingdom of God stuff can really change our lives, our churches, and, ultimately, the world.
Since I think of Bishop Tom mostly as a scholar and a writer, I was moved to hear of his pastoral concern for the people and churches within his diocese, the Diocese of Durham in England. He spoke of how much he desires to bring the hope of the gospel to the parishes over which he is bishop, many of which are struggling financially and spiritually. He also shared about praying for each his couple hundred parishes on a weekly basis. This wasn't a matter of boasting, by the way, but rather an encouragement to us to pray faithfully.
On several occasions, both prior to and after his messages, Bishop Tom led us in prayer. I found his prayers strikingly simple. He didn't even use some of the Anglicanisms that one might expect from a bishop. His language was more common than churchy. Usually he prayed to "Father," much as Jesus taught us. It's quite clear that Bishop Tom, though a high-ranking official in the Anglican Church, and though a top-notch scholar, is a man of genuine, humble faith in God through Jesus Christ. His pastoral care and, indeed, his scholarly writing, is an expression of this fundamental faith.
Of course you don't get to know someone intimately in only two days. But I must say that my two days with Bishop Tom were impressive in ways I didn't expect.
In tomorrow's post I'll explain yet another way Bishop Tom impressed me and, in fact, challenged me.
My Response to N.T. Wright at Laity Lodge (cont)
Part 11 of series: Sharing Laity Lodge
Permalink for this post / Permalink for this series
At the pastors and leaders retreat at Laity Lodge, Bishop N.T. Wright gave five talks. We had asked him to speak from the platform of his fine book Simply Christian, and to spell out implications for Christian leadership. In fact, Bishop Tom did as we had asked, though adding an extra twist. He showed how many of the themes of Simply Christian are lived out in the early church as portrayed in Acts of the Apostles. So we got more than we bargained for, most happily, I might add.
I'm not going to summarize Bishop Tom's teaching. And, unfortunately, Laity Lodge is not yet wired to put things like this online, either for purchase or for podcast. (If you want to purchase the CDs of this retreat, please contact our Administrative Coordinator, Liz Short, for the details.) What I want to do is to share one of my personal responses to Bishop Tom's teaching.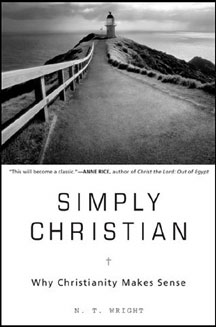 As he connected the points of Simply Christian to the book of Acts, I was struck again and again by Bishop Tom's effort to interpret the text of Scripture accurately. Every time he referred to a passage from Acts, he set that passage in its larger literary and cultural context, and then paid close attention to the actual words and logic of the passage. Now there's nothing radically innovative here. These are exactly the skills I have taught in seminary exegesis courses. But, listening to Bishop Tom, I was reminded of how tempting it is to cut exegetical corners. If I've worked on a text before, or if I think I know what it says, or if I just get tired, I'm inclined not to do the hard work of textual interpretation. Bishop Tom, on the other hand, keeps working away on the text. His example encouraged me and, to be honest, chastened me a bit.
I was also impressed by his willingness to admit when he wasn't quite sure what a biblical passage meant. In the Question & Answer session, somebody asked about the meaning of Matthew 25:31-46. That's the passage where the Son of Man/King judges the "sheep" and the "goats." It's the text where Jesus says, "I was hungry and you gave me food, I was thirsty and you gave me something to drink" etc. In response to the question about this passage, Bishop Tom admitted that he still wasn't sure exactly how to interpret it, that he had various theories, but that he hadn't settled on one. Apart from demonstrating impressive humility in this admission, it struck me as coming from someone who just won't "cheat" when it comes to biblical interpretation. He will work on the text for as long as it takes to discern its meaning.
Now that's not to suggest that Bishop Tom is inerrant in his exegesis. I'm sure he gets some things wrong, perhaps even some major things. Which of us doesn't? But his relentless pursuit of biblical meaning is laudable as well as a great encouragement to the rest of us. He reminds me that faithfulness in understanding the Scripture requires hard work. I hope and pray I can imitate Bishop Tom's example in my own life and ministry.
If you're a lay person, if you've never studied Greek or Hebrew, if you don't have lots of hours for study, you may wonder if you can engage in the sort biblical interpretation modeled by Bishop Tom. Though academic training and the knowledge of ancient languages certainly helps, I think it's quite possible for somebody without such advantages to wrestle honestly and successfully with the meaning of Scripture. With a couple of good translations and a couple of decent commentaries, you can come close to the meaning of the original text. Moreover, much of what leads to the successful interpretation of a text has to do with careful reading of the passage and the context again and again and again. This can be done in English translation. So, though I would encourage anyone who is serious about Bible study to get some relevant academic training, I would also say that the discipline and commitment modeled by Bishop Tom are things that any Christian can and should emulate.
His commitment to figuring out what Scripture really says, rather than what we think it says or what we'd like it to say, gets Bishop Tom into trouble at times. He continues to take lots of flak from liberal Christians who are distressed by his interpretation of biblical texts related to homosexuality. Moreover, at the moment, he's on the hot seat with many Reformed and evangelical thinkers – my theological family – for his take on Paul and especially on the meaning of justification. In my next post I'll say a bit more about this controversy.
N.T. Wright and the "New Perspective on Paul"
Part 12 of series: Sharing Laity Lodge
Permalink for this post / Permalink for this series
N.T. Wright is part of a movement among scholars that is sometimes called the "New Perspective on Paul." In this movement you'll find a wide range of opinion on many things as well as plenty of internal disagreement. But all the scholars connected with this New Perspective see Paul differently than he has been interpreted by Lutheran and Reformed theologians for the past few centuries. And this, as you might imagine, has stirred up the pot.
The New Perspective comes, on the one hand, from an effort to understand more accurately the Judaism of Paul's own day, as well as the passages in Paul's letters where he sounds quite positive about the Jewish Law (Philippians 3:5-6, for example, where Paul says he was "as to righteousness under the law, blameless.") On the other hand, advocates of the New Perspective attempt to read Paul in light of his own issues and concerns, rather than in light of historic Protestant issues and concerns. They see Paul as much more interested in the problem of the Jewish and Gentile relationship in the covenant than Martin Luther's struggle with his own guilt. In the New Perspective, certain key tenets of Protestantism, such as "justification" become revised. "Justification by faith" continues to be a key Pauline and theological concept, but it doesn't bear the weight that it has within classic Protestant and Reformed theology.
Some of the Reformed and evangelical critics of N.T. Wright have blasted him with language usually reserved for the worst of heretics. They see him as undermining, not only Protestantism, but also the core of Christian orthodoxy. In an astounding move, one denomination has threatened its pastors with explusion if they adopt the New Perspective. Other of Wright's critics are less inflammatory and dogmatic, but they nevertheless express great concern about his New Perspective reading of Paul.
I've been surprised by some of the arguments used against Wright's exegesis of Paul. One of the common lines is that Wright has abandoned the Reformation's view of Paul and justification by faith. Even if this were true, and I think it's a bit of an exaggeration, I find it curious that Wright's effort to go back to the Bible rather than endorse Reformation theology receives such scorn from the very people who base everything on going back to the Bible (or at least they used to). Isn't sola scriptura at the base of the Reformation? Wouldn't it be contrary to the very spirit of the Reformation to demand that theologians echo Reformation doctrine rather than going back to Scripture itself? It's certainly true that Wright may have misinterpreted Paul. But we aren't going to know this by quoting Luther and Calvin, or even by using extra-biblical theological language (like "imputed righteousness"). Rather, the Reformation itself sends us back to the Scripture itself. If N.T. Wright is wrong about Paul, then this needs to be demonstrated by the same kind of exegesis that he has practiced so assiduously.
Another common argument against Wright's view of Paul is that it doesn't support powerful evangelical preaching. Again, I think this argument substantially misreads Wright, but even if it's true, does it miss the main point? Those who worry that Wright's view of Paul might undermine preaching is perilously close to an "end-justifies-the-means" argument, rather than an argument that upholds the truth of Scripture no matter what the implications. Once more, the question that matters above all else is whether Wright's reading of Scripture is true or not. If, in the end, we must change our preaching, so be it. Yet I'm quite confident that the truth will lead to powerful preaching, whether that truth is ultimately consistent with traditional interpretations of Paul or not.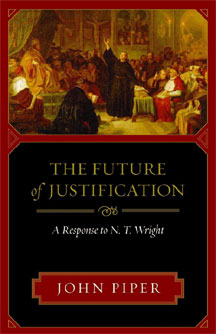 If it sounds like I'm defending Wright's view of Paul, let me say that my personal jury is still out on the matter. Honestly, I haven't been able to take the time to work through all of the issues, and, most importantly, all of the texts. But I will say that I find the arguments used by many of Wright's critics to be way too ad hominem, way too utilitarian, and, ironically, way too Catholic for my taste. I have not yet read one of the latest responses to N.T. Wright, John Piper's The Future of Justification: A Response to N.T. Wright. Knowing Piper's other writings, I expect that this will be a measured criticism of Wright, one that will advance the conversation because it will deal carefully with Scripture. Moreover, Piper did Wright the service of sending an early draft of his book, and Wright did Piper the service of sending back an extensive response. This alone guarantees that Piper's book will be much better than most critiques of Wright, which usually misinterpret him.
Here is my fear, however. John Piper is very influential, especially among the kinds of people who would be troubled by Wright's take on Paul. I'm afraid that many will buy and read Piper's book before and even without ever reading Wright himself. Then they'll quote or paraphrase Piper, without even reading Paul himself. This, I suggest, is neither Reformed, nor evangelical, nor even especially Christian. One who reads Piper should also read Wright himself, and, more importantly, should dive into a fresh examination of Scripture.
My sincere hope is the Wright will pen a response to Piper (well, keyboard a response, I suppose). Bishop Tom mentioned while at Laity Lodge that he might do this. My greater hope is that the two of them might team up, much in the way Wright and Marcus Borg did on Jesus in their book, The Meaning of Jesus. What could be better than having two articulate teachers and brothers in Christ engage in mutually-respectful dialogue on the meaning of Paul? It's certainly better than some of the flame throwing that Wright has endured from pugilistic Christians.
When I read Piper's critique and any other, and as I continue to wrestle with Wright's own view, my main question will be: Who does the best job interpreting Paul? If it turns out that the Reformation misconstrued some of what Paul actually meant, that's too bad, but so be it. If it turns out that we preachers have to revise what we've preached about justification and righteousness on the basis of what the Bible actually says, so be it. Of all people, we who stand in the line of the Reformation should seek, above all and at any cost, to grasp the true meaning of Scripture and to stake our lives and ministries on it.
Resources
If you're looking for more information on N.T. Wright and the New Perspective on Paul, let me recommend:
A Review of Simply Christian by N.T. Wright (Section 1)
In the series: Considering N.T. Wright
Permalink for this post / Permalink for this series
As I mentioned a couple of posts ago, when N.T. Wright was at Laity Lodge, he based his teaching on his book Simply Christian, with connections made to several passages from Acts of the Apostles. Before I finish up this mini-series on N.T. Wright, I thought it would be helpful to put up a brief review of Simply Christian.
This book tries to do for our generation what C.S. Lewis did for his generation in Mere Christianity. That book laid out in readable, engaging terms what Christianity was all about. It spoke powerfully to the modern reader, whether Christian or not.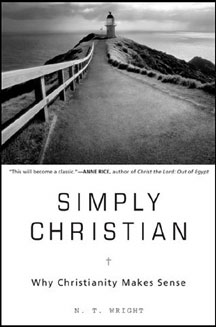 Following Lewis, Simply Christian is an attempt to describe Christianity for today's reader, for today's postmodern reader. thus it follows quite a different course than Lewis's, though with several sensible overlaps because, after all, their basic subject matter is the same. Wright describes his purpose this way:
My aim has been to describe what Christianity is all about, both to commend it to those outside the faith and to explain it to those inside. This is a massive task, and I make no pretense of having covered everything, or even of having faced all the questions some might expect in a book of this sort. (p. ix)
If you're not familiar with Simply Christian, and if you've done some reading in Christian apologetics (the genre in which Simply Christian most naturally fits), you may be surprised by Wright's approach. He doesn't start with proofs. In fact, he doesn't even try to prove anything in Simply Christian: neither the existence of God, nor the deity of Christ, nor any of the things apologists often try to prove. The subtitle of Simply Christian is Why Christianity Makes Sense. Wright does not seek to prove that Christianity is true, only that it makes sense, especially to people in today's world.
Wright begins with what he calls "the echoes of a voice." These echoes are the longing for justice, the quest for spirituality, the hunger for relationships, and the delight in beauty. We hear these echoes in our hearts, Wright contends, and they suggest that something, or perhaps Someone, first spoke that of which we hear echoes. The fact that we long for justice, desire spirituality, and so forth doesn't prove that there is a first speaker. But it does point us in the direction of God, indeed, the God of the Bible.
For example, Wright focuses first on our longing for justice. He wonders where this comes from:
How does it happen that, on the one hand, we all share not just a sense that there is such a thing as justice, but a passion for it, a deep longing that things should be put to rights, a sense of out-of-jointness that goes on nagging and gnawing and sometimes screaming at us – and yet, on the other hand, after millennia of human struggle and searching and love and longing and hatred and hope and fussing and philosophizing, we still can't seem to get much closer to it than people did in the most ancient societies we can discover? (p. 6)
Among several possible answers to this question, Wright proposes:
Or we can say, if we like, that the reason we have these dreams [of justice], the reason we have a sense of memory of the echo of a voice, is that there is someone speaking to us, whispering in our inner ear – someone who cares very much about this present world and our present selves, and who has made us and the world for a purpose which will indeed involve justice, things being put to rights, ourselves being put to rights, the world being rescued at last. (p. 9)
When I first read Simply Christian a couple of years ago, my response to Wright's first chapter on justice was: Brilliant! There is a longing for justice in people today, even if this longing takes different and sometimes contradictory forms. Some may long for laws that protect unborn children, while others long for guaranteed freedoms for women. Wright does not argue that the content of our longing for justice necessarily tells us what justice really is. Rather, his point is that the fact that we have such longing constitutes the echo of a voice, of God's voice, in fact.
By beginning with justice, rather than with the existence of God or the evidence for the resurrection, Wright is connecting with people in today's world. His is a powerful beginning, on that ultimately points to the God revealed in Scripture and the gospel of God's salvation in Jesus Christ.
I'll have more to say about this in my next post.
A Review of Simply Christian by N.T. Wright (Section 2)
In the series: Considering N.T. Wright
Permalink for this post / Permalink for this series
In my last post I began to review N.T. Wright's book, Simply Christian. I explained how we starts by examining four echoes of a voice: the longing for justice, the quest for spirituality, the hunger for relationships, and the delight in beauty. These echoes don't prove God's existence, but they do point in His direction.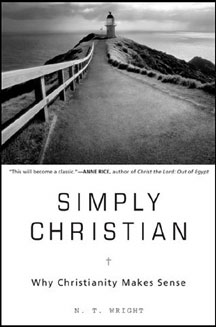 The second major section of Simply Christian focuses not on the echoes of God's voice, but on God, something Wright says is like "staring at the sun" (p. 55). He does not enter into a systematic inquiry into the nature of God, however. Rather, he attempts to tell the story that reveals God to us. Simply Christian attempts something truly extraordinary: to tell the whole Christian story in only 85 pages. This story, according to Wright, "claims to be the true story about God and the world" (p. 55).
Notice that although Wright employs one of the major tools of postmodernism, namely story or narrative, he is not a postmodernist who believes that every story is more or less equal in value, and that no story is ultimately true. Wright tells the Christian story as the true story, thus aligning himself with Christian orthodoxy even as he seeks to communicate into a postmodern world of conflicting stories.
If you're familiar with the Bible, Wright's telling of the story will sound familiar, but it may be quite different from the core story many of us identify with Christianity. For example, I grew up with a succinct evangelical version of the Christian story. It went something like this:
God created us for relationship with Himself. But we sinned, breaking this relationship and earning eternal death. God, because He loves us, sent His Son to die on the cross for our sins. Jesus paid the price for our sin, thus opening up a way for us to be reconciled with God and to experience eternal life in heaven with God after we die. If we believe in Jesus, we receive the gift of salvation, and thus enter into eternal life. We can have confidence that when we die, we will be with the Lord forever. In the meanwhile, we can live in relationship with God and invite others to know God through Jesus Christ.
As near as I can tell, N.T. Wright believes every part of this evangelical story as I have just told it. But he does not believe it is the fundamental Christian story. Rather, it's only part of a much grander Christian story. The "salvation from my sins through Jesus" story is true and wonderful, but not nearly as true and wonderful as the full story of God's effort to save the world, in which the "salvation from my sins through Jesus" story makes sense.
It's easy to see how Wright is skating on thin ice with some Christians. Though he seems to believe what evangelical Christians believe, his telling of the Christian story is different from what many evangelical Christians would tell. Without denying personal salvation and going to heaven after death, he does not make it the main point of the story.
What is the Christian story, according to N.T. Wright. It begins with God's good creation, a creation in which God has a significant investment and participation. But this creation becomes corrupted through human sin. Rather than abandoning His creation, God chooses instead to redeem it, to "put the world to rights" as Wright often says. (He mentioned to me that he has learned that this phrase doesn't work well in American contexts, but that he hasn't come up with a better one. I suggested "putting the world back together," which he agreed is more or less than same.)
How does God endeavor to put the world to rights? He begins by choosing a people to represent Him in the world, through whom He will redeem the world. This people, the children of Israel, do not complete the task, though they do prepare the way for the One through whom God will save the world: Jesus, Israel's Messiah.
Jesus begins to usher in the kingdom of God through His earthly ministry. Yet this kingdom will not come until Jesus takes upon Himself the sin of the world by dying on the cross, through which God's new covenant would be established. The cross is not some afterthought, some Plan B for Jesus when His kingdom message didn't take. Rather, the cross is at the center of the coming of the kingdom. Here's what Wright says, in summary, about the death of Jesus on the cross:
The meaning of the story [of Jesus's death] is found in every detail, as well as in the broad narrative. The pain and tears of all the years were met together on Calvary. The sorrow of heaven joined with the anguish of earth; the forgiving love stored up in God's future was poured out into the present; the voices that echo in a million human hearts, crying for justice, longing for spirituality, eager for relationship, yearning for beauty, drew themselves together into a final scream of desolation.
Nothing in all the history of paganism comes anywhere near this combination of event, intention, and meaning. Nothing in Judaism had prepared for it, except in puzzling, shadowy prophecy. The death of Jesus of Nazareth as the king of the Jews, the bearer of Israel's destiny, the fulfillment of God's promises to his people of old, is either the most stupid, senseless waste and misunderstanding the world has ever seen, or it is the fulcrum around which world history turns.
Christianity is based on the belief that it was and is the latter. (p. 111)
The Christian story does not end at the cross, according to Wright. In fact, were it not for the next part of the story, the resurrection of Jesus, there would be no Christian story to speak of. The resurrection, which Wright defends as a genuine event of history, not as some bit of wishful thinking or theological symbolism, did not so much demonstrate the divinity of Jesus as it showed that He was indeed Israel's Messiah and the Savior of the world. Moreover, the resurrection shows us the something of the new creation,
introducing a world full of new potential and possibility. Indeed, precisely because part of that new possibility is for human beings themselves to be revived and renewed, the resurrection of Jesus doesn't leave us as passive, helpless spectators. We find ourselves lifted up, set on our feet, given new breath in our lungs, and commissioned to go and make new creation happen in the world. (p. 116)
In order that we might fulfill this commission, the very Spirit of God lives within and among us, allowing us to experience something of God's future yet to come and to bring this future into the present day, however partially. Thus we join God's project of putting the world to rights, living by the power of God's own Spirit.
How do I evaluate N.T. Wright's retelling of the biblical story? Since this post is already plenty long, I'll offer my evaluation in my next post in this series.
A Review of Simply Christian by N.T. Wright (Section 3)
In the series: Considering N.T. Wright
Permalink for this post / Permalink for this series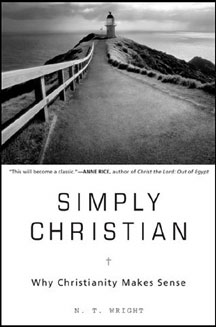 In my last post in this series I gave a short overview of N.T. Wright's synopsis of the grand Christian story in his book Simply Christian. In order to know God, Wright argues, we need more than theological pronouncements. We need to pay attention to the story of God's work in the world, the story God has revealed to us in Scripture. It is incumbent upon us to pay attention, not only to certain verses and themes, but also to the big story, the narrative that begins with creation in Genesis and ends with the new heaven and new earth in Revelation. This story is centered in Jesus, who proclaimed and embodied the kingdom of God, and who opened up access to that kingdom through His death and resurrection. The biblical story ends with God reigning as King of king and Lord of lords, and with the new creation of heaven and earth. Yet we who have put our faith in Jesus do not simply wait around for the story to end. By God's grace and by His Spirit, we participate with God in the work of putting the world to rights.

I find Wright's summary of the biblical story to be a compelling one. It takes seriously the whole of Scripture, and not merely certain favorite parts. The evangelical story that I summarized in my last post, the story that focuses on personal salvation and life after death, is drawn largely from a few passages in Paul's letters and the Gospel of John. It bears little relationship to the actual preaching of Jesus, not to mention the long story of God and Israel. Now I should say clearly that I believe this evangelical story to be true, but only as part of the larger biblical story that begins with the first creation in Genesis and ends with the new creation in Revelation. Jesus did indeed die for my sins on the cross, thus opening up for me the way to life after death. But Scripture clearly reveals that His death accomplished far more than this, however wonderful this might be (see Ephesians 2, for example).

Wright is not saying that the biblical story leaves me out. But he shows, convincingly, that this story is not primarily about getting me and lots of other people saved so we can "go to heaven" after we die. Rather, the grand story of God's salvation includes me, not only as a recipient, but also as a participant. As a believer in Jesus, I get to join with God in His saving work. My old evangelical story also drew me in, but almost entirely as one who could tell the good news to others so they might believe in Jesus and go to heaven. The biblical story, according to Wright, draws me in, not just as a sharer of the good news, but also as one who lives out that good news in the world, joining with God and His people in His work of putting the world to rights.

The phrase "and His people" in the last sentence is a crucial one. When we put our faith in Jesus, we are joined to the church, the body of Christ in the world. The Christian life is not to be lived alone. Rather, as a member of Christ's body, I give and receive mutual care. Moreover, I join with other Christians to live out God's kingdom in the world. Though the ultimate restoration of creation comes only through God's effort, we who are His people in the world get to have some part of that effort, even today.

N.T. Wright has spoken of the church as "the people of God for the world." This is a wonderful summary of who we are together. We are not just the individuals who know God. And we are not just individuals who serve God in the world. We are not the people of God who exist merely for relationship with God. And we are not just the people of God who care for each other. We are the people of God, bound together as one through the Spirit. And we are the people of God who exist, not just for God and ourselves, but also to serve God in the world.

As you can tell, I respond rather favorably to N.T. Wright's summary of the Christian story. It's not just that I like what he says, but that he takes the whole of Scripture seriously. There may well be better versions of the Christian story. But, from my point of view, they will only be better if they do a better job narrating the whole of Scripture. I'm sure Wright's critics will pick at this or that part of his narrative, perhaps with valid criticisms. But I would challenge them to see if they can tell the the whole biblical story more accurately.

Today, if someone were to ask me, "Where can I find the best summary of Christian faith?", I'd point people first to the Bible. But this is a rather long summary, and it won't be helpful to all people at first. So, next, I'd point people to pages 55-140 of Simply Christian. I know of no better synopsis of what Christianity is really all about.

Yet this isn't the end of Simply Christian. Tomorrow I'll address the last part of the book.

A Review of Simply Christian by N.T. Wright (Section 4)

In the series: Considering N.T. Wright
Permalink for this post / Permalink for this series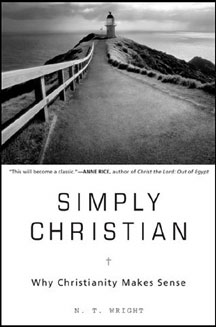 In Part One of Simply Christian, N.T. Wright discusses four "echoes of a voice" that incline our hearts in God's direction. These echoes are: the longing for justice, the quest for spirituality, the hunger for relationships, and the delight in beauty.
In Part Two of Simply Christian, Wright shows how these echoes are sounded in the true Christian story of God's work in the world, a story that begins in Genesis with the first creation and concludes with the new creation of Revelation. Wright wraps up Part Two by speaking of Jesus and the Trinity:
And it's all because of Jesus. Once we glimpse the doctrine – or the fact! – of the Trinity, we dare not slide back into a generalized sense of a religion paying distant homage to a god who (though somewhat more complicated than we had previously realized) is merely a quasi-personal source of general benevolence. Christian faith is much more hard-edged, more craggy, than that. Jesus exploded into the life of ancient Israel – the life of the whole world, in fact – not as a teacher of timeless truths, nor as a great moral example, but as the one through whose life, death, and resurrection God's rescue operation was put into effect, and the cosmos turned its great corner at last. . . . It's all because of Jesus that we speak of God the way we do.

And it is all because of Jesus that we find ourselves called to live the way we do. More particularly, it is through Jesus that we are summoned to become more truly human, to reflect the image of God into the world. (p. 140)
Whew! When N.T. Wright gets on a rhetorical roll, he really preaches!
Part Three of Simply Christian picks up the idea of "reflecting the image of God into the world." This reflection leads into a discussion of worship (ch. 11), prayer (ch. 12), the Bible (chs. 13 & 14), and Christian community/mission (chs. 15 & 16). I'm not going to try to summarize all that Wright says in these chapters. They are filled with biblically-inspired wisdom that reflects the life experience of a faithful Christian who is also a caring pastor.
Let me include a couple of excerpts from Wright's discussion of the Bible so you can get a flavor of his writing in Part Three:
It's a big book, full of big stories with big characters. They have big ideas (not least about themselves) and make big mistakes. It's about God and greed and grace; about life, lust, laughter, and loneliness. It's about birth, beginnings, and betrayal; about siblings, squabbles, and sex; about power and prayer and prison and passion.

And that's only Genesis. (p. 173)

But the main things to recognize are that God intends that we should have this book and should read and study it, individually and corporately; and that this book, by the power of the Spirit, bears witness in a thousand ways to Jesus himself, and to what God has accomplished through him. To repeat a point I made earlier, but a vital one: the Bible isn't simply a repository of true information about God, Jesus, and the hope of the world. It is, rather, part of the means by which, in the power of the Spirit, the living God rescues his people and his world, and takes them forward on the journey toward his new creation, and makes us agents of that new creation even as we travel. (p. 191)
What I so appreciate about these passages is, on the one hand, their rhetorical power (especially the first one). On the other hand, Wright is able to talk about what really matters in a way that is clear and compelling.
So it is with the last paragraph of Simply Christian, which circles back to the themes of Part One, picking up themes from Parts Two and Three:
Made for spirituality, we wallow in introspection. Made for joy, we settle for pleasure. Made for justice, we clamor for vengeance. Made for relationship, we insist on our own way. Made for beauty, we are satisfied with sentiment. But new creation has already begun. The sun has begun to rise. Christians are called to leave behind, in the tomb of Jesus Christ, all that belongs to the brokenness and incompleteness of the present world. It is time, in the power of the Spirit, to take up our proper role, our fully human role, as agents, heralds, and stewards of the new day that is dawning. That, quite simply, is what it means to be Christian: to follow Jesus Christ into the new world, God's new world, which he has thrown open before us. (p. 237)
When I come to the end of Simply Christian, I find myself extraordinarily grateful for N.T. Wright and his effort to communicate with non-Christian people in today's world. Bookstores are flooded these days with sundry versions the atheistic "gospel," which is hardly good news, after all. Christian responses to Hitchens, Dawkins, and the like are often logically coherent, but many times fail to move the hearts of unbelievers. We win the argument but lose the battle for people's souls. N.T. Wright has attempted to do in our generation what C.S. Lewis attempted to do in his: to speak of Christianity in a simple and truthful way that touches the minds and hearst of contemporary people. In my view, the attempt itself deserves our thanks. Moreover, I think Wright's attempt works, at least to a significant degree.
No doubt Wright's critics will find problems with Simply Christian. And, no doubt, some problems exist. But as they try to tear apart what Wright has joined together, I hope they'll try to do better in the positive task of communicating with secular people in today's world. It's one thing to win intramural Christian arguments, and quite another to hold up Christianity in a postmodern, multicultural, relativistic world. Wright has attempted what few Christians dare today, and I, for one, am both impressed and grateful.