N.T. Wright; Considering N.T. Wright; N.T. Wright at Laity Lodge; Simply Christian
Christmas Carol Inspiration
by Rev. Dr. Mark D. Roberts
Copyright © 2009 by Mark D. Roberts
Note: You may download this resource at no cost, for personal use or for use in a Christian ministry, as long as you are not publishing it for sale. All I ask is that you give credit where credit is due. For all other uses, please contact me at mark@markdroberts.com. Thank you.
Christmas Carol Inspiration: An Introduction
Part 1 of series: Christmas Carol Inspiration
Permalink for this post / Permalink for this series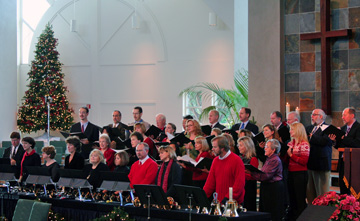 For several years I have wanted do a series on Christmas carols, one that would include some interesting bits of history as well as a theological examination of the lyrics. And for several years I have found myself distracted by other blogging priorities. This year has been no exception. So my carol series remains a figment of my hopeful imagination. In 2004 I did write a short series called Christmas Carol Surprises, which did cover a piece of the ground I hope to survey in a new series. But most of what I have had in mind remains there, in my mind. (Photo: The Chancel Choir and Bell Choir of Irvine Presbyterian Church presenting a Christmas carol.)
It dawned on me recently that my hope of doing an extended series on carols during one Christmas/Advent season may be unrealistic. Perhaps, I thought, I should just start by doing one or two carols this year. Then I can add to the series in future years. So that's the plan. Today I'm going to introduce the series. Then, in the next couple of days, I'll focus on one carol. At least that will get me out of the starting blocks. Next year, Lord willing, I'll add to this beginning.
What I Plan to Do
My game plan is simple. I will pick several Christmas carols, beginning with some of the most popular. If appropriate, I will share some relevant tidbits about the song's composer and/or composition, and perhaps about its music as well. Then I will focus on the lyrics of the carol, especially its theological affirmations.
Why Am I Doing This?
I'm doing this series on Christmas carols for several reasons. First, I love carols. With a few exceptions, I love to hear them and to sing them. I love the warm, nostalgic feeling they stir up within me. And, most of all, I love the message they proclaim with poetic profundity.
I'm not alone in my love for Christmas carols. But I have found that most people have never stopped to consider their meaning, especially beyond the first, common verse. If I were to ask you for the themes of "Silent Night," for example. You'd probably say something about the quiet of the night when Jesus was born. That would be right, to a point. But you may not remember that the third verse of the standard English version of the carol celebrates the shining of God's love and grace from the face of the infant Jesus. And you may not realize that the original German had the baby laughing with God's love.
This series on carols, will, I hope, help you understand more of the poetic theology of several beloved Christmas songs. Yet my point isn't merely academic. I believe that the more we understand the message of the carols, the more we will be inspired as we hear and sing them. And this inspiration will lead us more deeply into the meaning of Christmas, even as it will encourage our worship of the God who came to dwell with us in the first Christmas.
In the Meanwhile
Tomorrow I'll begin by examining the background of one of our favorite carols. We'll have to wait until next year for more. In the meanwhile, however, I would encourage you to begin to think about what you're singing at Christmastime. You may even want to grab your favorite book of carols and use it as fodder for your Christmas devotions.
If you're looking for some guidance in your study of Christmas carols, let me encourage you to check out a fabulous website: The Hymns and Carols of Christmas. It contains a huge collection of carols in many versions, as well as discussions of their composition. I will, at times, borrow from this site. As far as I can tell, however, The Hymns and Carols of Christmas contains relatively little theological analysis of the carols. So that leaves me something to do.
As we work through the carols, in this year and in future years, may God grant us the joy of his coming. In the timeless words penned by Isaac Watts, "Joy to the world! The Lord is come. Let earth receive her king!"
"Hark! The Herald Angels Sing" – The Carol That Shouldn't Exist, Part 1
Part 2 of series: Christmas Carol Inspiration
Permalink for this post / Permalink for this series
"Hark! The Herald Angels Sing" is surely one of the most popular and beloved of Christmas carols. Each year, it is sung in thousands upon thousands of churches at Christmastime, not to mention being played in countless stores across the world, beginning usually sometime in November. "Hark! The Herald Angels Sing" has been recorded in dozens of versions by many vocalists, including: Frank Sinatra, Bob Dylan, Carrie Underwood, and Mariah Carey. Perhaps the most familiar version of this carol comes in the closing moments of the cartoon classic, A Charlie Brown Christmas, with its opening "Loo-loo-loos" and the orange-slice-shaped mouths of the singing children.
But "Hark! The Herald Angels Sing" should never have come into existence, at least if its writer and composer had anything to say about it.
You wouldn't discover this if you looked up this carol in a hymnal or songbook. There, the writer is identified as "Charles Wesley, 1739, alt." 1739 is the date in which the lyrics were written. "Alt" means that the original words have been altered. The music for "Hark! The Herald Angels Sing" is attributed to Felix Mendelssohn, 1840, with arrangement by William Cummings, 1855. From this data you would conclude that the carol was written in 1739 by Wesley. In 1855, William Cummings used a melody of Mendelssohn, arranging it into the familiar tune we know today. All of this would be true, in a way. But this story misses the ironic drama of the origin of "Hark! The Herald Angels Sing."
The Story Behind the Lyrics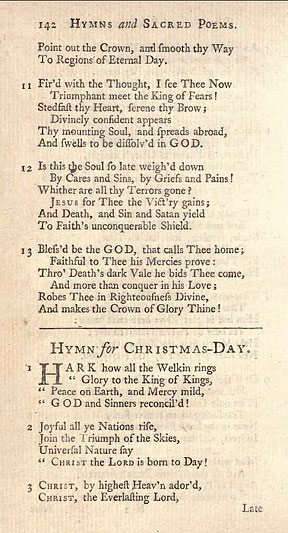 In 1739, John and Charles Wesley published Hymns and Sacred Poems, which included Charles' "Hymn for Christmas-Day." This hymn featured familiar lines such as: "Peace on Earth, and Mercy, mild, GOD and Sinners reconcil'd! Joyful all ye Nations rise, Join the Triumph of the Skies." But it did not begin with the familiar opening line, "Hark! The herald angels sing, Glory to the newborn King." In fact, the original Wesley carol began, "HARK how all the Welkin rings, Glory to the King of Kings." No herald angels to be found here! (Photo: A page from Hymns and Sacred Poems, including "Hymn for Christmas-Day" with its "welkin." Photo from Hymns and Carols of Christmas.)
If you're like me, you haven't used the word "welkin" recently. It appears eighteen times in Shakespeare's plays, but hasn't received a lot of play in the last couple of centuries. "Welkin" is a word for the vault of heaven, the place where stars and angels dwell. Charles Wesley began his hymn for Christmas with the heavens ringing with the glory of the King of kings. The rest of the original carol is similar to the one we sing today, with the exception of the ninth and tenth verses, which were deleted by some eighteenth- or nineteenth-century editor. These verses read:
Adam's likeness, Lord, efface,
Stamp thy Image in its Place,
Second Adam from above,
Reinstate us in thy Love.

Let us Thee, tho' lost, regain,
Thee, the Life, the Heav'nly Man:
O ! to All Thyself impart,
Form'd in each Believing Heart.
The one who omitted these verses, and, more importantly, the one who changed "welkin" to "angels," was none other than the eighteenth-century evangelist and good friend of Charles Wesley, George Whitefield. Sensing the obscurity of "welkin," Whitefield changed the Christmas hymn to read, "Hark the Herald Angels sing, Glory to the new-born King!" Whitefield went on to publish his version of the hymn, which, apparently, distressed his friend Charles Wesley, who resented, among other things, the unbiblical picture of angels singing. In Luke 2, the angels are "saying, " not singing, "Glory to God in the highest . . . ." Other editors added to Whitefield's changes, so that the carol we know today differs from Wesley's original in several respects. (For more information, see Raymond F. Glover, The Hymnal 1982 Companion, #87.)
The Wesley brothers were not altogether happy about the changes made to their hymns, including "Hymn for Christmas-Day." Here's what John wrote in the preface to the 1779 edition of A Collection of Hymns for the use of the people called Methodists:
Many gentlemen have done my brother and me (though without naming us) the honour to reprint many of our Hymns. Now they are perfectly welcome so to do, provided they print them just as they are. But I desire they would not attempt to mend them; for they really are not able. None of them is able to mend either the sense or the verse.

Therefore, I must beg of them one of these two favours; either to let them stand just as they are, to take them for better for worse; or to add the true reading in the margin, or at the bottom of the page; that we may no longer be accountable either for the nonsense or for the doggerel of other men.
As it turns out, the doggerel of other men, including George Whitefield, prevailed over the careful poetry of Charles Wesley, and "Hark! The Herald Angels Sing" became a classic Christmas carol, while "HARK how all the welkin rings" disappeared into the dustbin of good intentions.
Yet the ultimate prevalence of "Hark! The Herald Angels Sing" had to do, not only with the revised lyrics, but also with the stirring melody, a melody that was never intended for such a sacred purpose by its composer. I'll tell this part of the story tomorrow.
"Hark! The Herald Angels Sing" – The Carol That Shouldn't Exist, Part 2
Part 3 of series: Christmas Carol Inspiration
Permalink for this post / Permalink for this series
In yesterday's post I explained that the beloved carol, "Hark! The Herald Angels Sing" was originally penned with a different opening line, "HARK how all the welkin rings." The author's original was changed and published by a friend, though without his blessing. If Charles Wesley, who preferred his own "welkin" line, had had his way, we'd never be harkening to angels singing "Glory to the newborn King."
Oddly enough, the composer of the tune we associate with "Hark! The Herald Angels Sing" did not intend it for such a sacred use. In fact, he specifically noted that this song should not be used for anything having to do with God.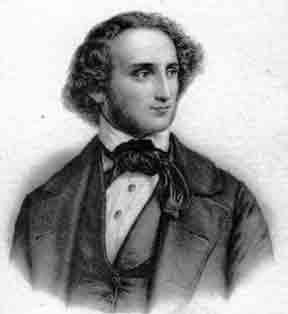 In 1840, Felix Mendelssohn wrote a song for the Gutenberg Festival in Leipzig, Germany. His "Festgesang" celebrated the invention of movable type and printing some 400 years earlier. Mendelssohn recognized the potential popularity of his tune, and advised his publisher concerning its potential use. According to Mendelssohn, in a letter to Mr. E. Buxton, if the right words were written for his song,
I am sure that piece will be liked very much by the singers and the hearers, but it will never do to sacred words. There must be a national and merry subject found out, something to which the soldier-like and buxom motion of the motion of the piece has some relation, and the words must express something gay and popular, as the music tries to do. (The Musical Times, Vol 38).
I must admit that before I read this quotation from Mendelssohn, I had never before associated the music of "Hark! The Herald Angels Sing" with the words "national" "merry" "soldier-like" "buxom" "gay" and "popular." Nevertheless, I understand clearly that the composer, who was born Jewish and converted to Christianity, did not envision a sacred use for his composition, and, in fact, counseled against such usage.
But in 1855, William H. Cummings, the organist at Waltham Abbey in England, who later became a leading English musician, adapted Mendelssohn's "Festgesang" to the lyrics of "Hark! The Herald Angels Sing." Previously, this piece had been sung to different tunes. Originally, it was sung to the tune EASTER HYMN, which we use for "Christ the Lord is Risen Today" (or "Jesus Christ is Risen Today"), another of Charles Wesley's hymns. But when Cummings' version was published, it quickly became the standard tune for the carol. Soon it was being sung with this tune, not only in England, but also in the United States as well.
So, by the late 18th century, the lyrics that the original writer, Charles Wesley, rejected were being sung to a tune that the composer said should never be used for sacred music. "Hark! The Herald Angels Sing" is, indeed, the carol that shouldn't exist.
Another Version of the Familiar Carol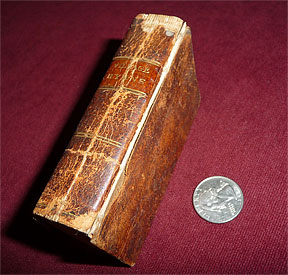 Just for fun, I thought I'd check out my collection of old hymnals to see if I could find a version of "Hark! The Herald Angels Sing." I did indeed find a version in one of my oldest hymnals, Village Hymns for Social Worship, by Asahel Nettleton (New York, 1836). (Nettleton was an influential reformed theologian and preacher in the 19th century. The name NETTLETON, in honor of Asahel Nettleton, was given to the hymn tune we associated with "Come, Thou Fount of Every Blessing.") The hymnal appears in the photo to the right. Notice how small it is, approximately 2½ by 3½ inches. And the font is a killer. I wonder how people could ever have used that hymnal!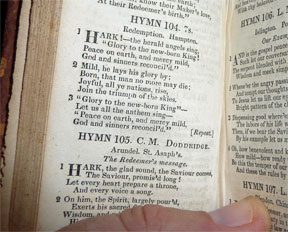 Hymn #104 is clearly a version of carol we sing today, though with different lyrics:
HARK! – the herald angels sing,
"Glory to the new-born King!
Peace on earth, and mercy mild,
God and sinners reconcil'd."

Mild, he lays his glory by;
Born, that man no more may die;
Joyful, all ye nations, rise,
Join the triumph of the skies.

"Glory to the new-born King" –
Let us all the anthem sing –
"Peace on earth, and mercy mild,
God and sinners reconcil'd." [Repeat.]
Nettleton suggests two tunes for this hymn: Redemption and Hampton.
If you're unfamiliar with the history of church music, you may be surprised to learn just how much variety there was in the early years of some of our most familiar and beloved hymns and carols. Slight changes in hymns in contemporary hymnals can get people pretty upset. Often they'll say something like, "We should sing the hymns the way they were written!" Little do they know that, often, what they consider to be original is not original at all. Wouldn't they be surprised if, instead of "Hark! The Herald Angels Sing," we sang "HARK All the Welkin Rings" to the tune of EASTER HYMN?!